The first crepe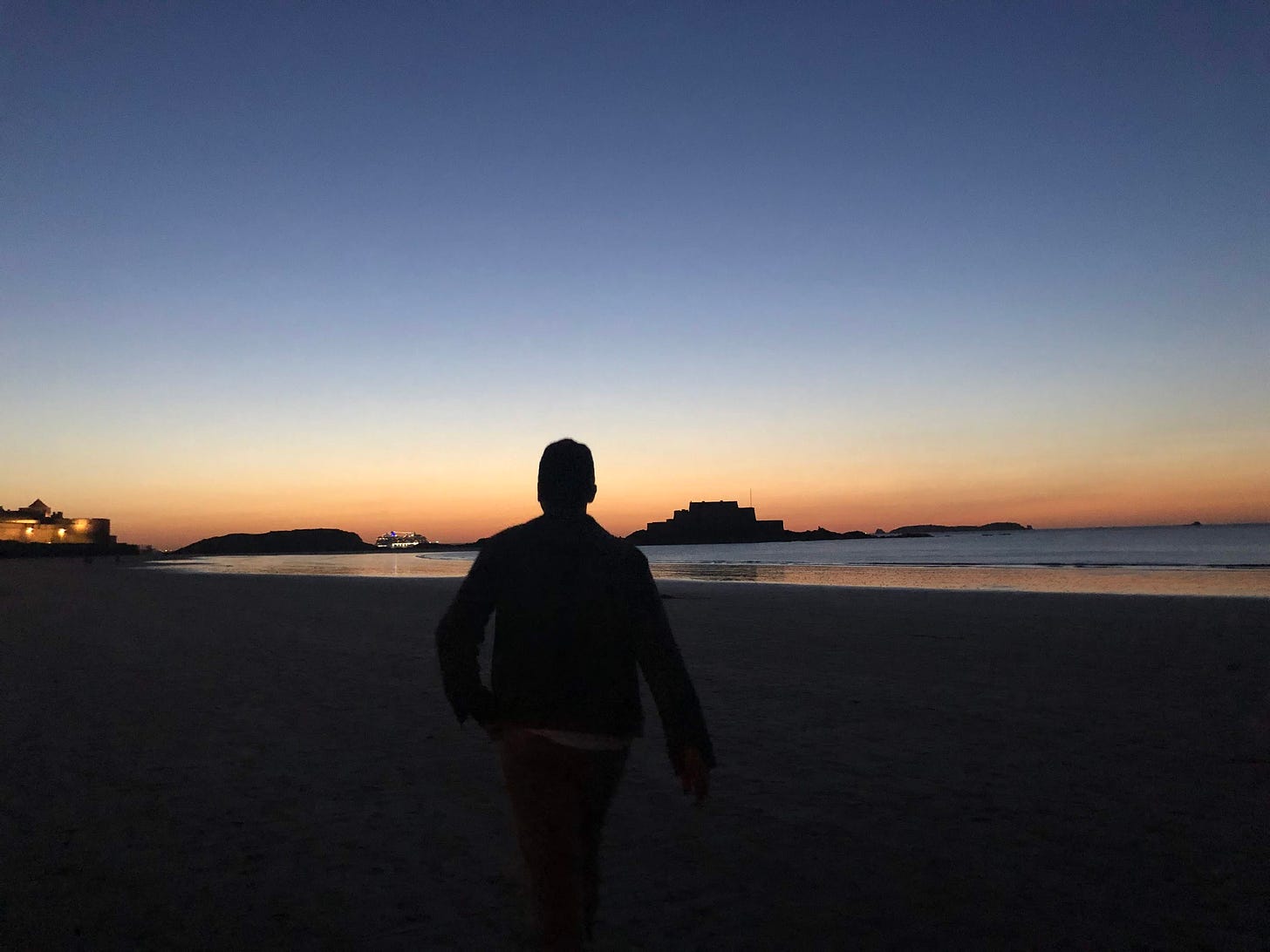 A few weekends ago—if there are such things as weekends anymore—I made Breton crepes for breakfast. Unlike regular crepes, Breton crepes, also known as galettes brettones, are made from buckwheat flour and are typically served with savory ingredients like sunny-side-up eggs and French ham. I don't cook breakfast often because I try to always have bagels (my favorite food) or Weetabix (my favorite cereal) in the house at all times. But crepes are a fun luxury on a Sunday morning because they are a reminder that days can be differentiated by the relative amount of time invested in making a meal. Long breakfast = weekend. Short breakfast = week.
When the first few crepes didn't turn out right, I remembered the concept of The First Crepe, also known as The First Pancake. When you're making crepes, no matter how hard you try or what you do, your first one or two will be ugly and oily and weird and bound for the trashcan. It's just science. You could be the inventor of the crepe and still get the first couple wrong. Something about the heat in the pan or the butter content or the alignment of the universe means that it takes a minute to hit your stride and that's okay. "If at first you don't succeed, try and try again," becomes "When at first you don't succeed, etc. etc. etc."
The crepes I made were inspired by our time in Saint-Malo, a town in Brittany on the northern coast where Sam and I spent a very lovely week eating Breton crepes when we first got to France and had to wait to move into the apartment we'd found. (That apartment eventually fell through and we spent the next month in AirBnbs and hotels while we scrambled to find a new one, but that's a story for another time.) The weather was still warm, but the tourists had already gone home, so when we walked down the long stretches of beach, we would see only each other, groups of nesting seagulls, and an occasional couple of French retirees. We swam in the very cold ocean, on Sam's encouraging and my stubborn resisting, to get our heart rates up. "No, no, no, no, no, no, no, no," I said over and over and over, to which he always responded, plainly, "Yes." I hated it immediately then loved it, which is generally the way I feel about most things, so I'm glad in the end that I could be convinced.
Saint-Malo felt like a week of possibility. We had just moved to France, with only three suitcases, a guitar, one soon-to-rendered-irrelevant British passport, and that very specific brand of optimism that Americans are known for. As a kid when we would travel to America from England, to visit my mom's American family, I found that optimism and penchant for joy intoxicating. I loved my uncle's fluffy pancakes for breakfast and trips to Dairy Queen on summer nights, where cicadas—a sound I don't remember having ever heard before—chirped happily. Even though I know part of me will always be English (see: a confounding devotion to Weetabix cereal), I identify most with my American side because to be American means to be constantly seeking joy, to envision hope in times when hope does not exist. We were dumb young Americans, bright-eyed and bushy-tailed, embarking on our grand French adventure, literally and figuratively jumping head-first into the frigid cold ocean.
If it sounds a bit deranged to wax poetic about being American while America has spent the past few years accelerating a path to self-destruction so great it would be comical if it weren't so tragic, I understand. But nine months of living in France has been as much a lesson in wistful hindsight as it has in present enjoyment. "This street reminds me of our old neighborhood," we would say. "Wouldn't it be great if America had a sidewalk drinking culture like France?" we'd imagine. It was always a thrill to hold my own in a lengthy conversation in French, then a welcome relief to get home and be able to switch to English. As much as I think we resist, travel often ends up being about comparing notes. And my feelings about home, even as we read news stories that detailed its hurtle towards breaking, still held more or less true in my mind. America can be such a mess, but it's where I learned optimism.
I'm speaking in the past tense because our exciting French journey is coming—unexpectedly—to an end. We were supposed to be here for two years, but only six months in, lockdown began in France and we've since spent the past two months twiddling our thumbs and talking about what we're going to make for dinner tomorrow while we're eating dinner today. The crepes I made a few weekends ago were my subtle tribute to one of the most enjoyable weeks of my life, when we had no idea what was about to happen. We could never have imagined that in such a short time period, our plans would change so drastically. Yet, we stayed hopeful and optimistic till the last.
The word I hear most often used to describe our current international experience is "unprecedented," meaning we have no possible comparison, no example through which we can interpolate helpful lessons to get us through this. But I've weirdly begun to feel that The First Crepe is a good way to look at everything and anything these days, as an exercise in hopeful survival in the absence of any control whatsoever. Things are going to be wrong and ugly, that's just a guarantee. Then things are probably going to be wrong and ugly again, there's no escaping it. But I guess it's this feeling that by the third or fourth attempt, something good could break through, something worthwhile will be summoned into existence. The First Crepe is an exercise in optimism at the intersection of reality. Nothing is right but maybe it will be soon.
The funny thing is, the crepes that I made a few weekends ago were good but not great. I couldn't recreate the crepes we had had in Saint-Malo because those ones were from a different time, before all of this. But because I had allowed little guaranteed failures in exchange for some semblance of reward, it didn't matter much if they tasted like Saint-Malo. They tasted like possibility in the face of defeat, and that tasted good enough.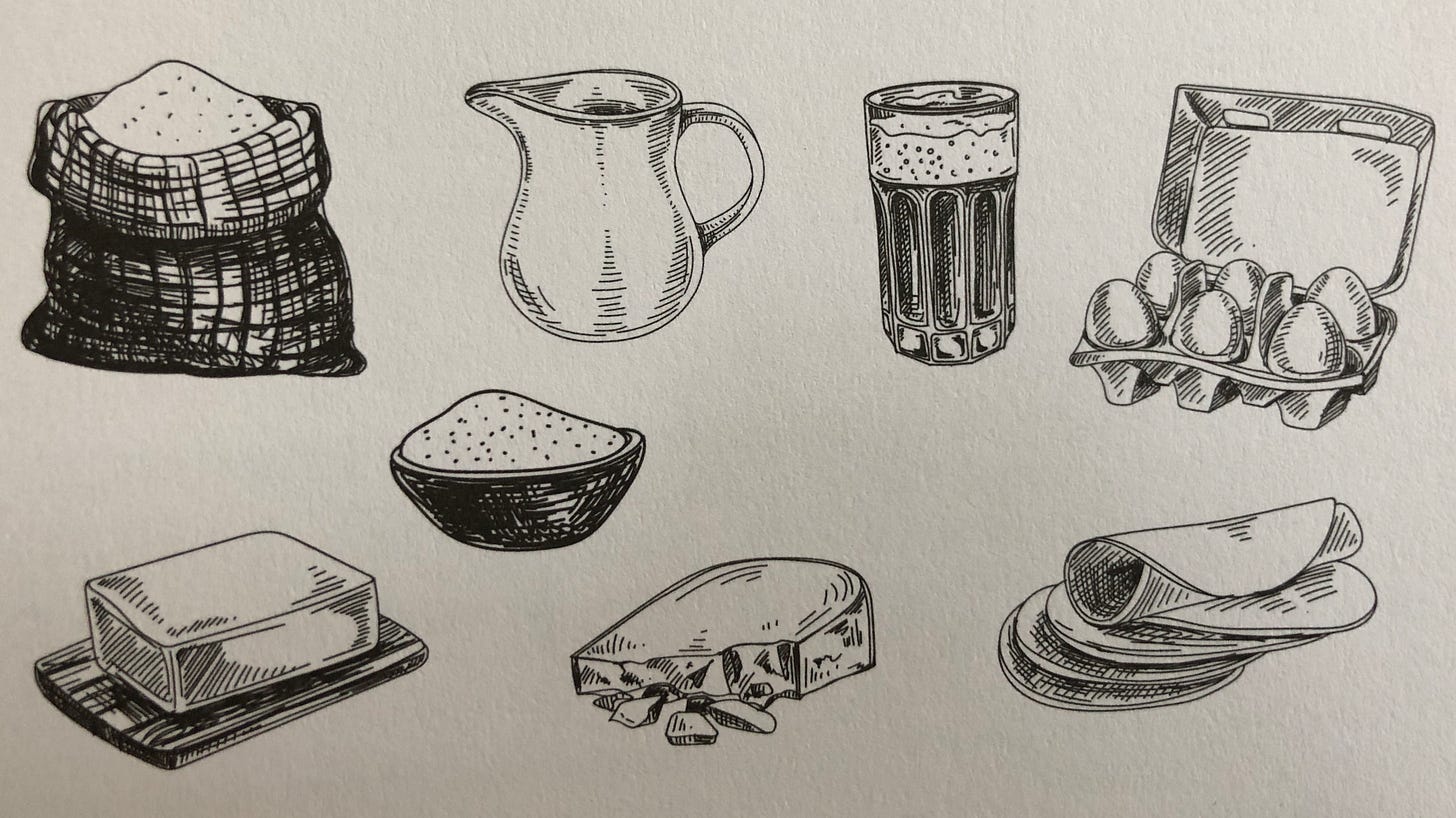 A few recipes for Breton crepes: