Recipes for sadness bread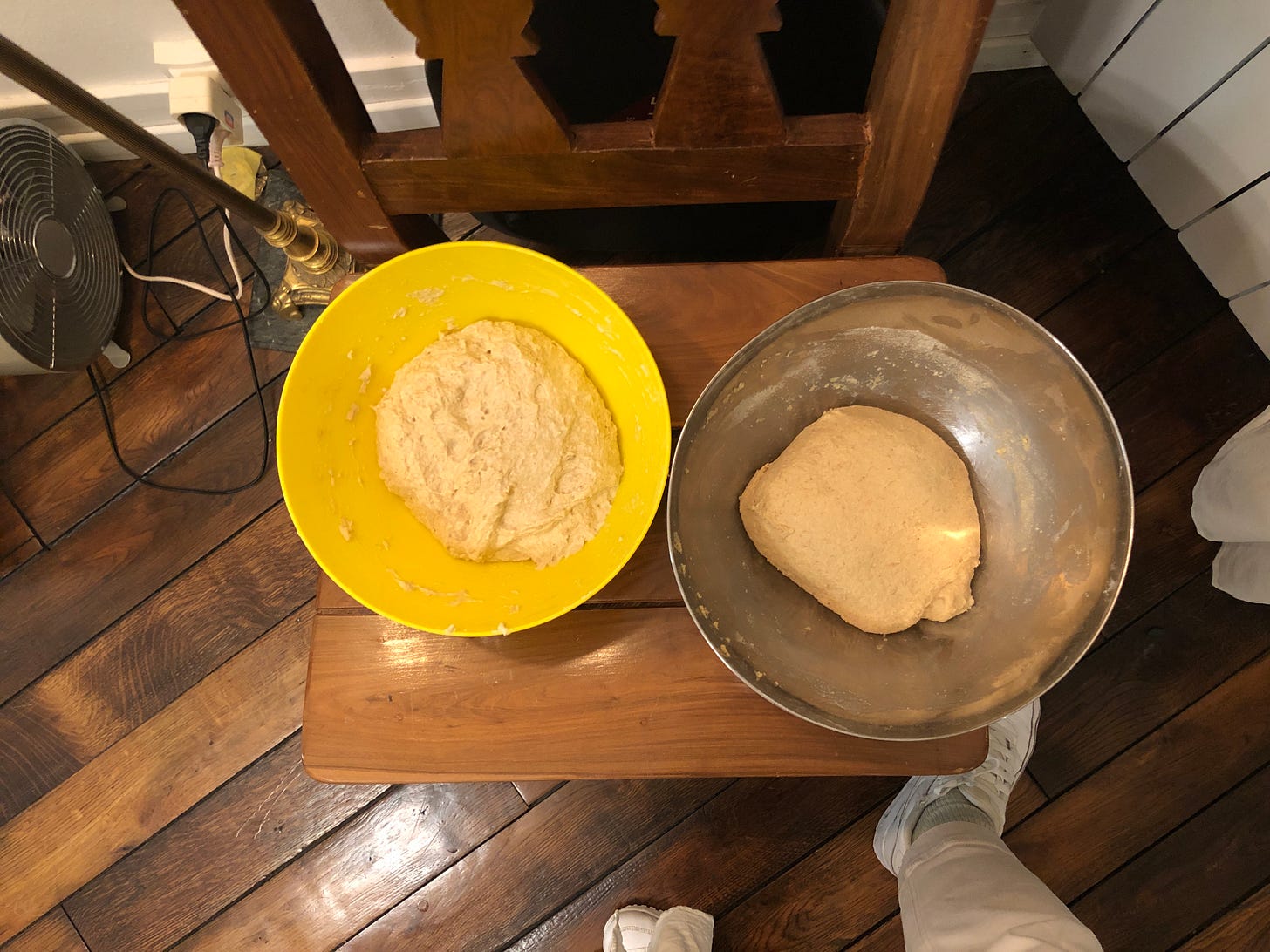 A few months ago, I saw a viral tweet that had me in conniptions, which is not typically something that happens to me.
I'll lead you through my reactions to this tweet:
Uh

no

Pfft no um no

No uh hm

hmmm

I mean

Okay

:(

Damn

..damn :(

yea…
It's February so I have occasion to think more about this tweet than I otherwise might, because everyone—well, not everyone, there are some people who seem happy no matter the weather or season, and to those people I say fuck you—is depressed right now. I only feel confident writing this newsletter today, a few days before February is over and only a few weeks until the clocks spring forward and we get to see the sun again, because I spent the last solid month and a half feeling like this: 😣. (It turns out that emoji is called the "perservering face," which is accurate.) I've mostly come out the other side now, so I am once again imbued with infinite wisdom, the kind that comfortably and smugly declares, "Hey, I told you that feeling wouldn't last forever, dumbass."
I've come here today to impart some of that wisdom.
My very smart friend Marian Bull calls this season the season of puttering. "Between my computer and the kitchen, between a book and the kitchen, between my bed and the kitchen," she wrote last year. And it's true. When darkness and cold and general malaise force you to stay in the house, like a poetic shut-in of old, you tend to just walk from one room to the next, hoping anything at all will bring you satisfaction. I become both fanatical about cleaning things and angry at the fact that things don't just stay clean forever after you clean them once. I read several books at the same time, and get antsy when none of them really scratch the itch. I talk a lot about how playing music always makes me feel better, then I watch my guitar throw disappointed glances my way, tucked in the corner, while I stream TV shows I don't even like. I'm too sad to play music right now, I reason.
I'm sure you can see where I'm going with this. I made my first loaf of bread in January 2017, when Sam was away and when it had just snowed a shit-ton in New York. The truth is, I did it to impress him because I loved him so much, and the real, real truth is, I also did it to survive. Like any person with a beating heart, I needed something to fill the aching, lonely hours spent stubbornly sequestered in our apartment, away from all the friends that lived close by and who kept asking me to hang out. (Besides puttering, everyone knows that the months from November to March are best for canceling plans.) I still remember looking at that loaf of bread like it was my prize hen. Something good, made from bad, to give to someone good.
The timing of this newsletter is a little bit stupid, in that—like I said—this horrible season is almost over. But maybe you have a better memory than I and you'll put the things I'm about to recommend to you in your back pocket for next year when you're feeling like this again. For me, that is impossible. I wake up, like clockwork, with amnesia on November 1st and wonder who the hell was driving the truck that just hit me.
So, sadness bread. Try the recipes below or don't. Try to feel better or don't. Listen to the most depressing Sufjan Stevens song and cry a lot, or don't. Whatever you decide to do, just know that you'll make it to the other side. And I'll be there, too, eating bread.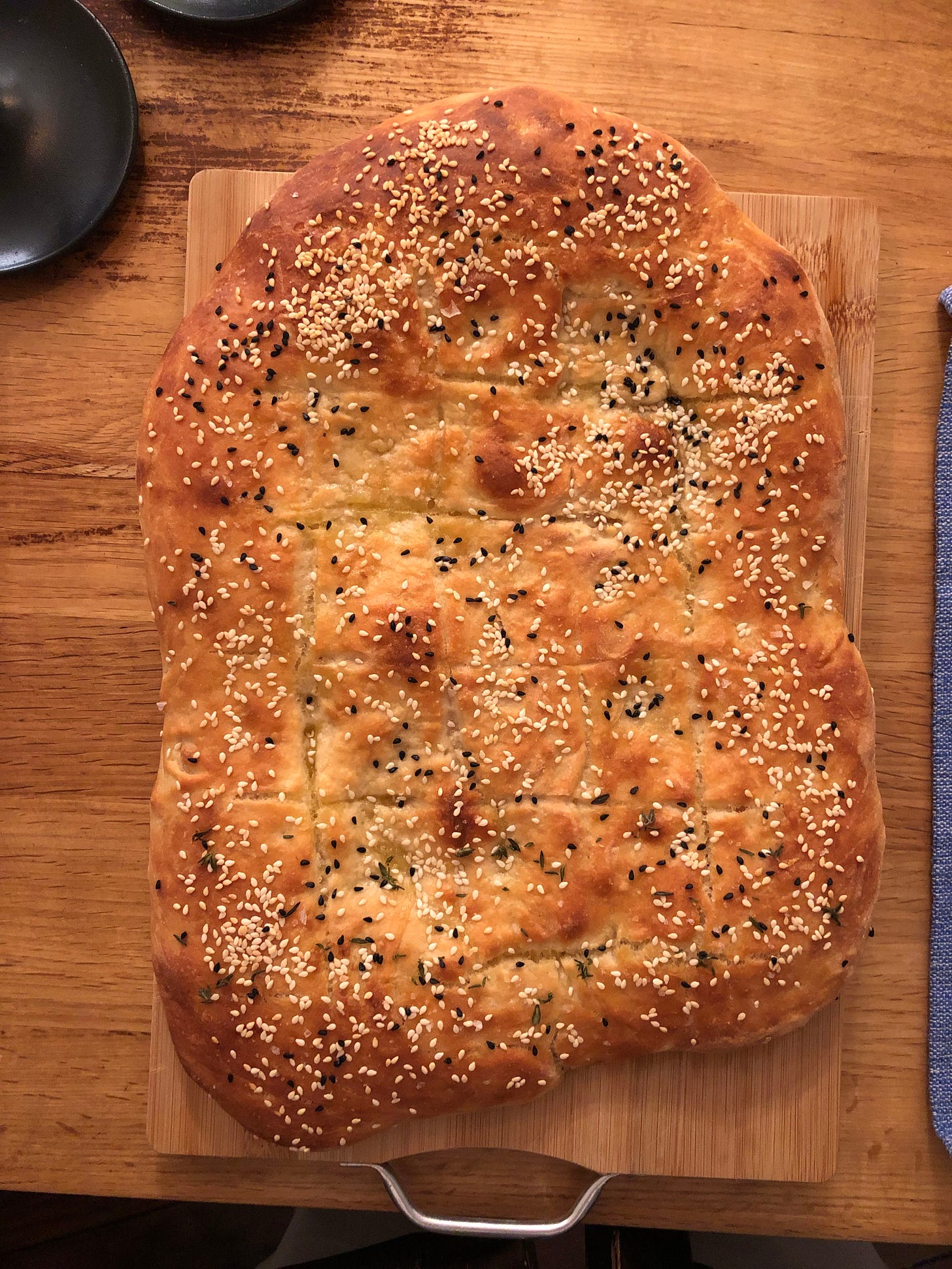 There are two kinds of sadness bread, slow and quick. Slow breads are the kind of breads that take several days to make. Quick breads you can have out of the oven in under an hour or two. While it is often hard to get to the bottom of what you need when you're in a sadness spiral, I'd encourage you to try asking yourself this question: Do I need to invest or do I need to rest? If you need to invest dedicated, concentrated energy into something, maybe over a long weekend, consider making a slow bread. If your brain is tired and you are still in your pajamas at 5pm, go for quick. An equivalent metaphor: do you want to build a piece of IKEA furniture or can you only handle writing a postcard?
The above bread is a kind of Turkish bread I made that took me maybe five minutes of concerted effort, then was ready to eat two hours later. I love bread that is flexible to whatever you want to put on it, and I especially love bread that is crispy and oily. This bread is both. I have simplified the recipe to be as low-key as possible, and if you feel like making a quick bread that is delicious with most soups, this is your guy.
A recipe for Turkish sadness bread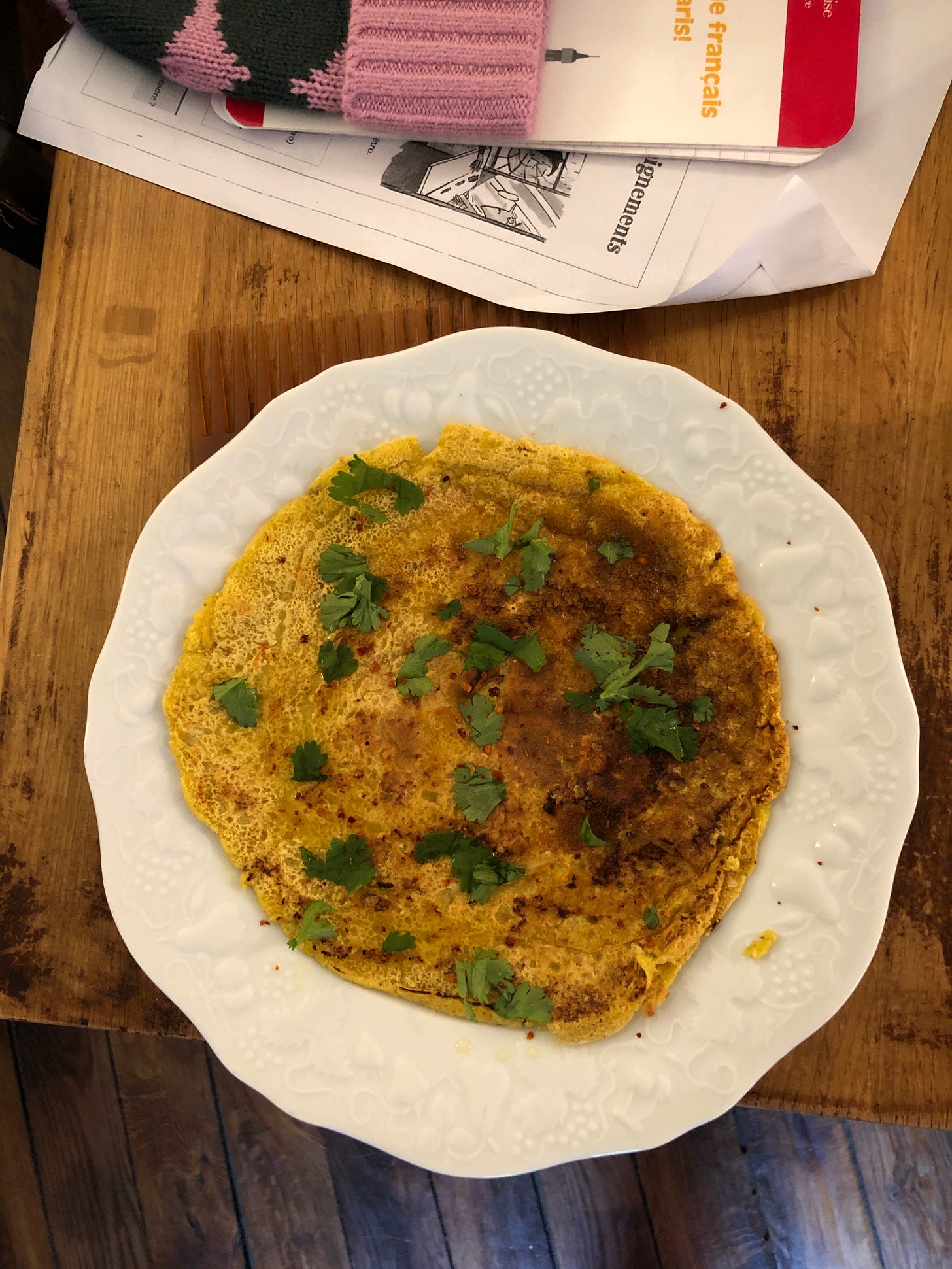 Here we have another kind of quick bread, technically a pancake, but pancakes are bread! Not a very nice photo, but it's a very heartening savory lunch or dinner or late-night snack when you still find yourself up and anxious, as it's made with chickpea flour and olive oil and whatever spices you feel like adding. I put cilantro on everything, so there's that, too.
A recipe for chickpea sadness pancake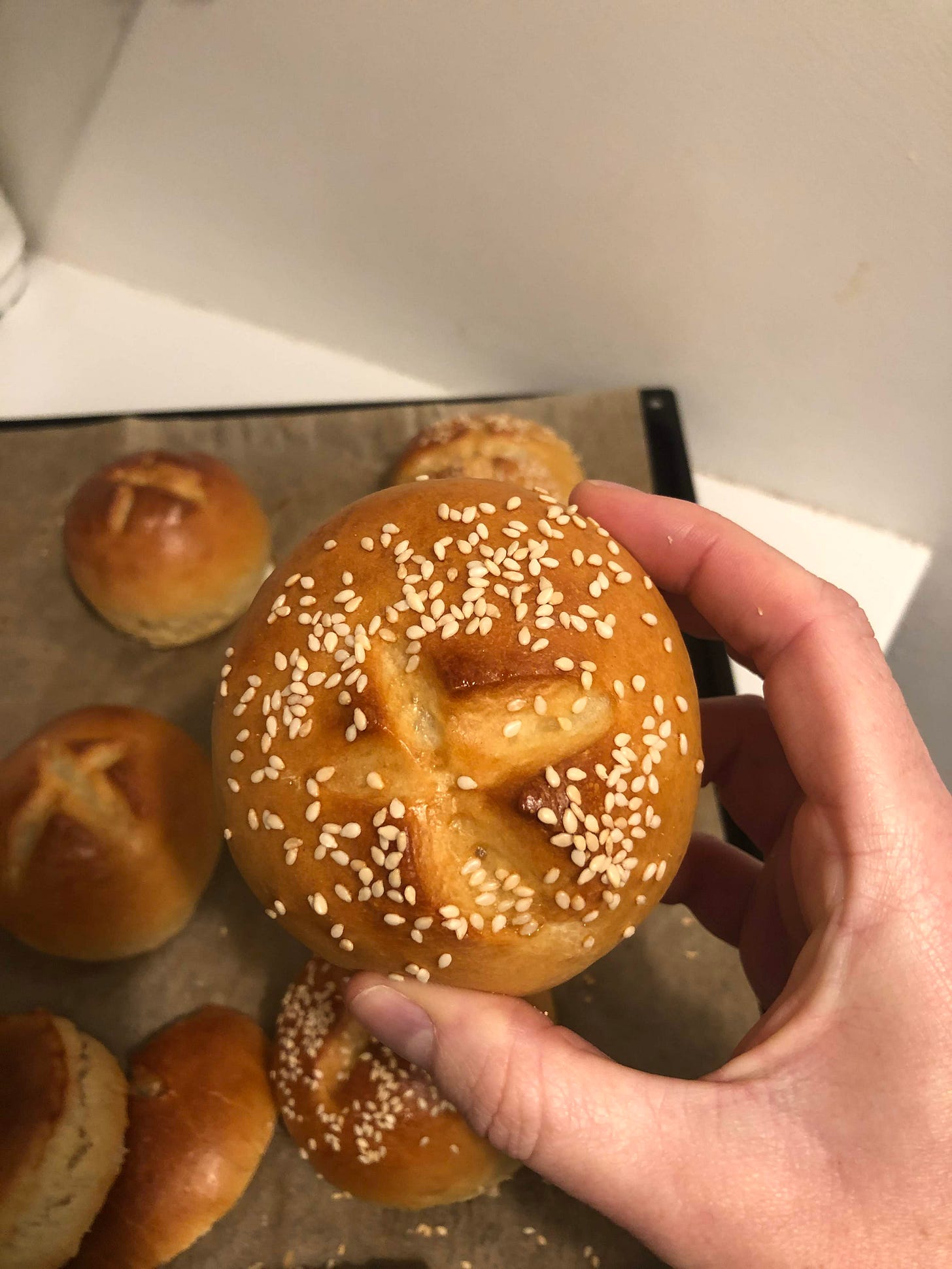 These are tiny baby kaiser rolls, which are perfect for egg sandwiches. No one can be sad while eating an egg sandwich. When I made these rolls this January, I had an egg sandwich for dinner and watched ninety-five episodes of The Office in a row. Anecdotally, this rich douchebag I used to know once made fun of me and said that "only poor people eat breakfast for dinner." If you're feeling low, I recommend making an egg sandwich and channeling all of your hatred towards that guy. It will make you feel really good.
A recipe for kaiser sadness rolls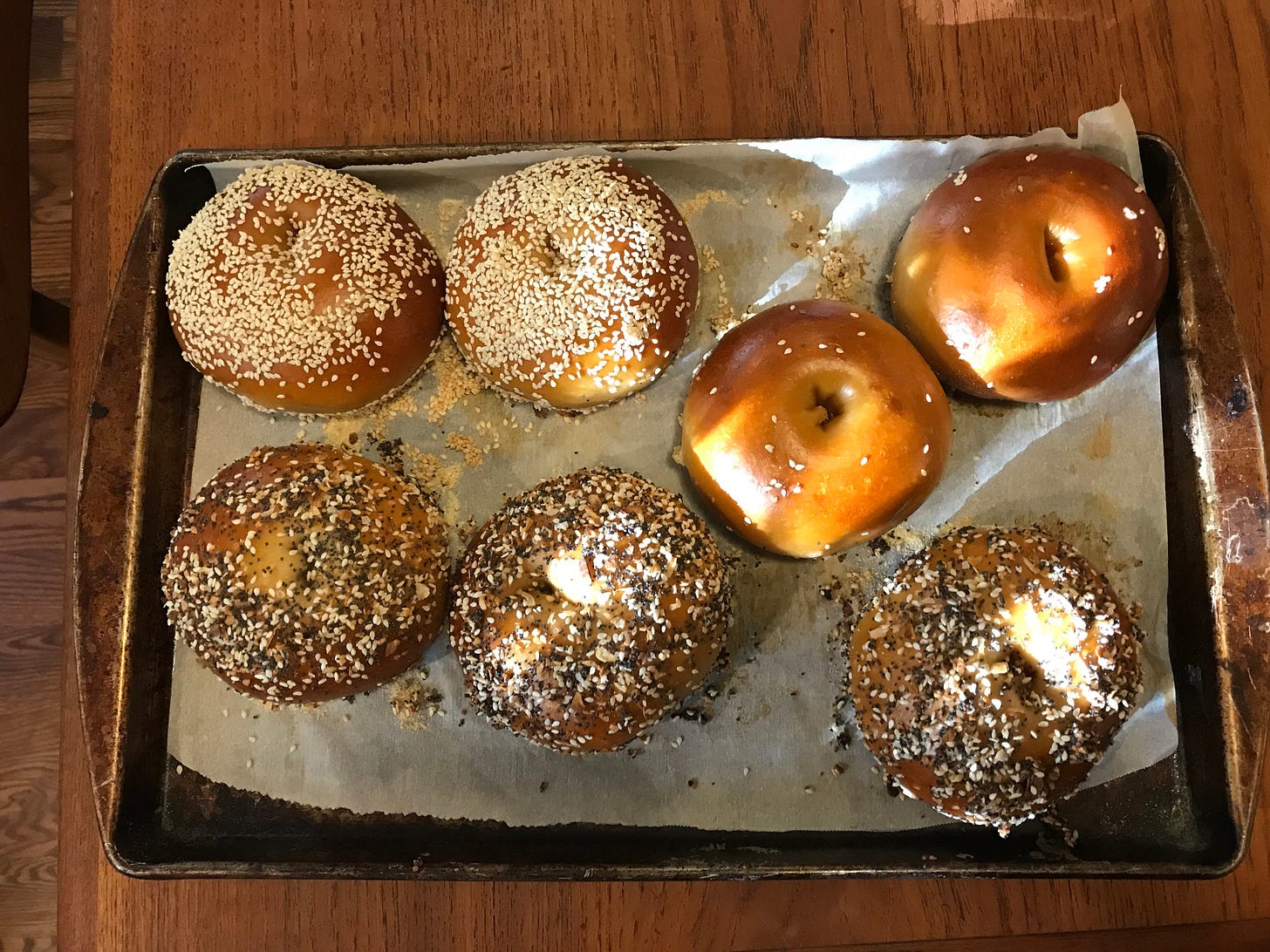 I make a lot of bagels, which was kind of dumb when I lived in New York but very important now that we live in Paris. Bagels are a slow bread, for sure, and for this recipe you have to put your bagels in the fridge overnight before you bake them. But when I'm feeling really low, I actually go to bed thinking, "You know, at least tomorrow there will be fresh, hot bagels in my house." It's enough to make you slightly hopeful even for one day. Also, this recipe requires specialty ingredients, which can be ordered online and will make you feel like a mad scientist. (Or maybe a sad scientist?)
This recipe is scanned from a book, and I don't think I can link to a PDF here, so this recipe, as well as the next one and a random recipe for challah, are in this Google Drive folder for you to download. I hope that isn't illegal.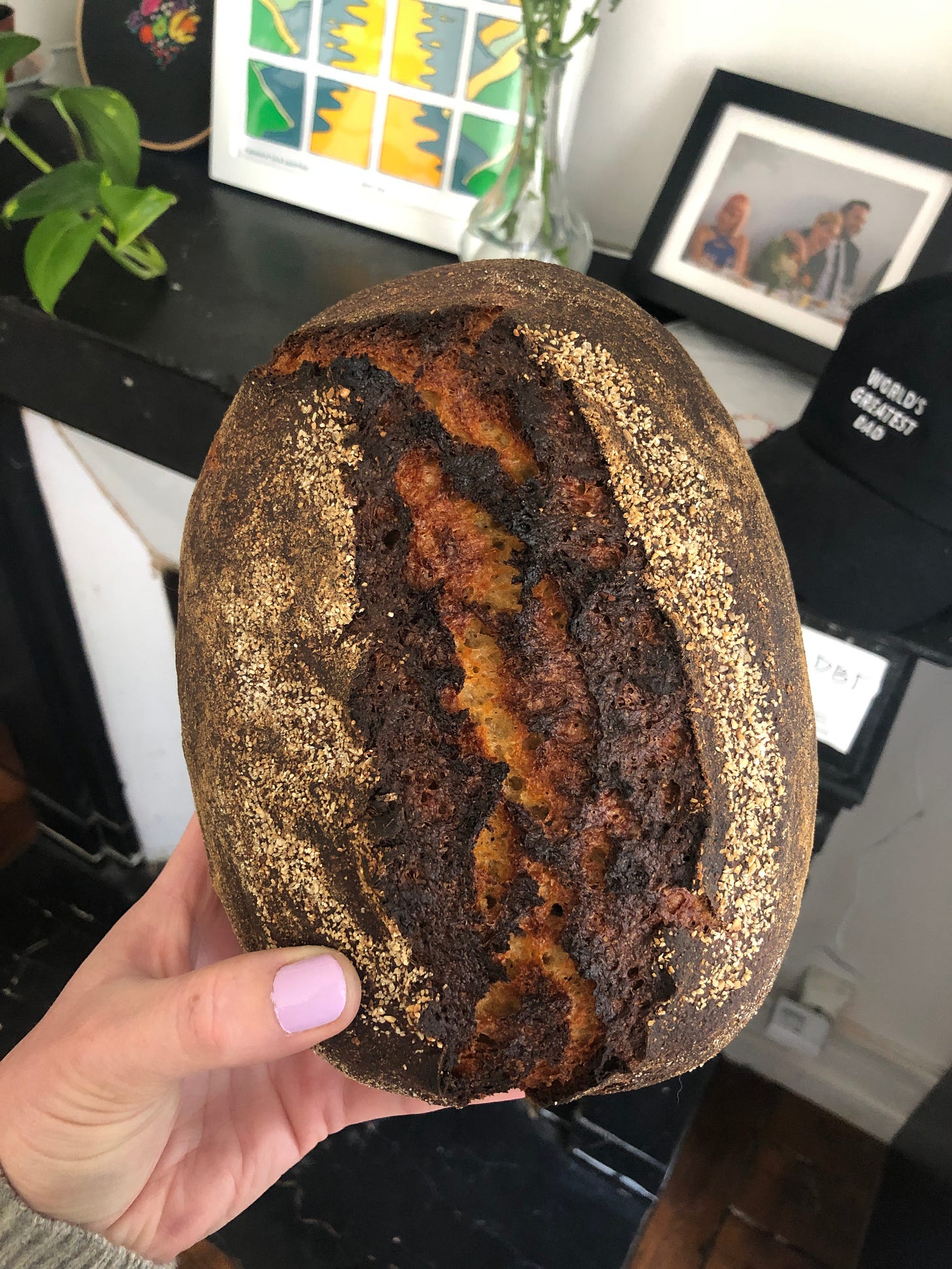 Last but not least, the elusive sourdough bread. I have many, many, many thoughts about how complicated making this bread can seem, when really it is not and everyone should do it. But I haven't quite figured out how to simplify those thoughts in writing. The recipe in the folder is one I wrote a year or so ago for a bread class I taught. I'm going to update it eventually, but just know that this is a few days process, and no matter what comes out of the oven, it will be amazing. If you don't have starter, go to a bakery and ask if they'll give you some. A good excuse to get out of the house and it'll only take you fifteen minutes.
If you made it this far in the newsletter, congrats. This probably feels like an empty promise, but if you do decide to bake any of these breads, you can email me if you have questions. After all, it's still February. At least until March, my calendar is wide open.